Struggling to Organize Terabytes of Evidence? We Can Help.
Published on
Adopting new technology can place an enormous burden on law enforcement agencies. Managing the massive amounts of data digital technology can produce is a time-consuming and complex task. Many agencies are already struggling to keep up with the demand, and most don't have long-term storage plans in place.
On top of that, there's the simple logistics of managing all that new data. Once officers have transferred their files to your evidence storage system, they need to organize and manage it. Using a traditional, on-premises storage server, your officers need to properly tag, file, and organize hundreds or even thousands of digital files.
Once stored, your agency needs to manage the varying retention periods to ensure essential files are being held the required length of time, while other files are being deleted to make room for newer evidence. Someone needs to manage access rights, while someone else has to maintain the server itself, ensuring it remains up-to-date and secure. This requires extensive manpower, and as more forms of digital evidence become available, the time you'll need for this work will only increase.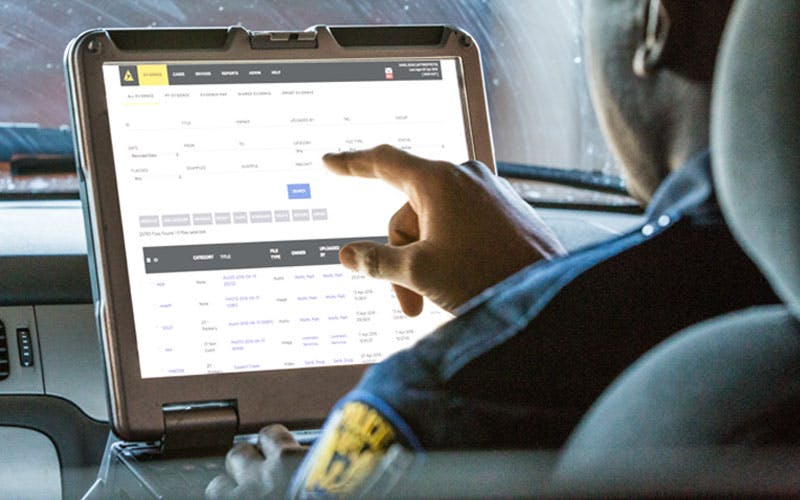 Fortunately, there's a simple, scalable solution to your problem: Evidence.com.
Evidence.com is more than just an online storage service. It is a comprehensive, digital information management system where you can store and manage different types of digital data, including traditional video, body-worn video, CCTV, digital pictures, audio recordings, and text documents.
Evidence.com will assist your agency in maintaining a complete repository of digital evidence, uploading new files from the field using secure mobile technology, organizing and managing that information, and retrieving it using simple search functions.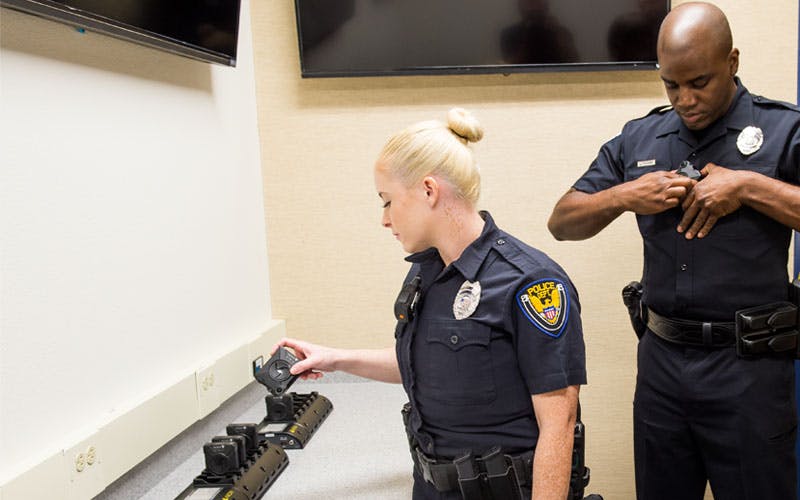 Harness the Infinite Power of the Cloud
For many years, on-premises servers have been the go-to solution for digital evidence storage. Now, many agencies are finding that they have outgrown their internal server's capacity, or will soon. The increasing demand for body-worn video is putting even further strain on existing resources. Every single officer equipped with a body camera brings in hours of new HD footage every day. At several gigabytes per shift, per officer, many agencies can find it difficult to keep up with the storage demand.
Using Evidence.com, you can start to scale your storage space, providing nearly unlimited potential for future growth. If your agency adopts a body camera program, or you expand your existing program, your storage space can grow to accommodate your need instantly. If, for whatever reason, you no longer need the additional storage, you can also reduce your space just as quickly, so your agency never has to pay for resources it doesn't need.
For more information about how you can easily grow or shrink your storage capacity to fit your agency's changing demands, see our two-part series on cloud servers.
Simplify Your Evidence Management Policies
Your digital evidence must be properly maintained and meet strict guidelines regarding tagging and data retention. Traditionally, that means valuable internal resources need to be tied up to meet those requirements.
Evidence.com simplifies this process. Your Evidence.com account can be fully integrated with your CAD/RMS systems to create retention schedules, and your digital evidence can be tagged with key pieces of information, such as GPS location. Evidence.com also provides an easy auditing solution, allowing administrators to track the chain of custody for every piece of evidence and review actions taken by users across your agency.
Let Data Security Experts Handle Your Security
We know you take security seriously. Your physical evidence locker has strict security policies, CCTV, and the best security force available: your officers. Your digital evidence locker should have the same level of protection. To maintain that level of security with an on-premises server requires regular maintenance, immediate response when updates or patches are released, and regularly scheduled review of all your hardware and software solutions by security experts. If you fall behind or miss an update, your entire evidence system could become vulnerable.
Evidence.com provides a CJIS and ISO/IEC 27001:2013-compliant, secure storage solution. Our team automatically handles all the maintenance required to keep your storage system running smoothly and securely. You never have to worry about upgrading hardware or applying security patches. Our team has extensive experience maintaining large-scale systems, and we strive to ensure that our systems are always up-to-date and your files remain secure.

Save Time and Money with a Cloud Solution
Adding a new or updating an existing in-house server can take months of setup and integration, and will likely require you to bring in an IT specialist to get it done right. On top of that, the server will require periodic upgrades, regular maintenance, and power to run. You'll need to factor all of those expenses into your budget, along with unexpected expenses such as the cost to replace broken hardware or to fix software issues.
With Evidence.com, you can be up and running with your brand-new, cloud-based system in as little as a few short hours.
There's no question why agencies across the world have turned to digital tools for evidence collection. Given the clear security advantages, it's no surprise so many are now turning to a cloud-based solution like Evidence.com for their data management needs as well.